^
I Support
Local
Community
Journalism
Support the independent voice of Phoenix and help keep the future of New Times free.
Aficionados of the WWE can be a rather boisterous and passionate bunch. Especially the 16,000-plus screaming and cheering wrestling fans who sold out the US Airways Center and packed the place to its rafters when the WWE held its annual Royal Rumble last night. Besides becoming unhinged when John Cena won the 30-man Rumble itself, they went absolutely batty when superstar-turned-movie star The Rock defeated CM Punk to win his eighth WWE championship.
Fans also got plenty rowdy before and after the event, and we happened to capture some of the madness on camera for our Royal Rumble slideshow, as well as for several humorous animated GIFs for your enjoyment.
See Also: - WWE Royal Rumble at US Airways Center, 1/27/13 (Slideshow) - WWE's Money in the Bank: A Visual Study of Phoenix's Die-Hard Wrestling Fans - WWE Superstar Antonio Cesaro on Ugly Americans, Being the United States Champion, and Why He's Tired of Being Called Eurotrash - WWE Superstar Cody Rhodes on His Killer Mustache, Ribbing Damien Sandow, and Which Legendary Tag Team He'd Love to Battle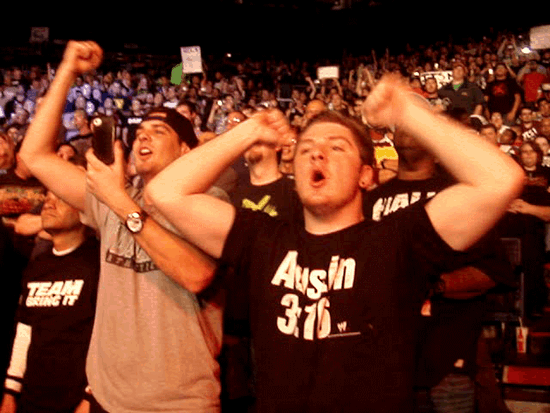 Rocky Rules The sellout US Airways Center crowd was pretty evenly divided into two camps during the main event of the Royal Rumble last night's event: Those that cheered on CM Punk (and screamed "Die Rocky Die") and those supporting The Rock. This particular fellow, who's obviously a fan of the WWE's vaunted "Attitude Era" due to his Austin 3:16 shirt, fell into the latter group, as he spent most of the match screaming "Ro-Cky! Ro-Cky!"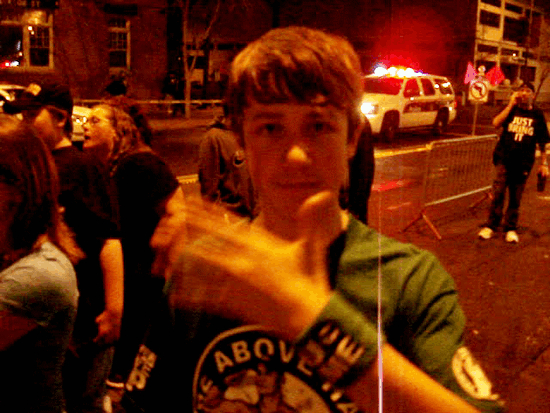 You Can't See Me It was a big night for John Cena as the super-polarizing WWE Superstar -- who earns a multitude of cheers and jeers alike -- beat out 29 others to win the Royal Rumble and earn a title shot against The Rock at WrestleMania 29 in April. We encountered this teenaged member of the Cenation outside the arena celebrating the big win and unleashing his hero's signature taunt.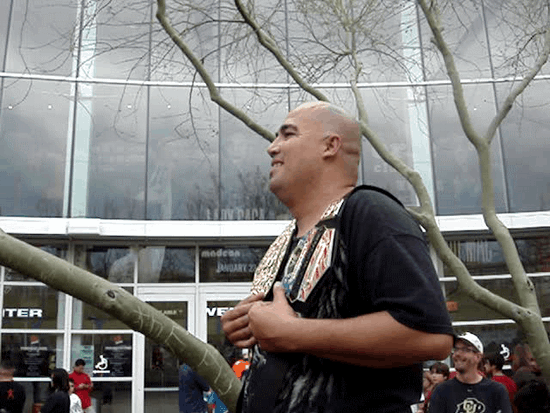 Smackdown and Smack Talk Members of the WWE Universe are a certainly a passionate and energetic bunch, to be certain. For instance, this particular fan (adorned in a couple replica championship belts) got quite fired up for the show outside of the US Airways Center while waiting for the doors to open. He shouted out his support for Sheamus, challenged fellow fans to impromptu matches, and cut promos worthy of a WWE Superstar.
Chairly Legal Fans who popped for ringside seats for the Royal Rumble got an extra perk along with their up-close view of the action: A commemorative steel chair covered with The Rock's face. And for those who've seen an episode of WWE Raw, y'all know that said chairs often become handy weapons, as these fans demonstrate during a mock melee after the event.
Spin to Win One of the most contentious topics amongst wrestling geeks is whether or not the "spinner" version of the WWE championship (first introduced in 2005 by John Cena) should be replaced. Some fans say it's a hokey gimmick designed to sell toys and should be replaced with a better-designed belt. Others, like this local WWE fanatics, couldn't care less and still think its pimp.
The Four Peaks Fracas After watching the Royal Rumble go down, we also happened to witness "The Tussle at the Train Station" where friends (and fellow employees of Four Peaks in Tempe) turned on one another during a half-assed donnybrook at a nearby light rail depot. Be sure to ask 'em all about it the next time you stop by for a pint of Kiltlifter.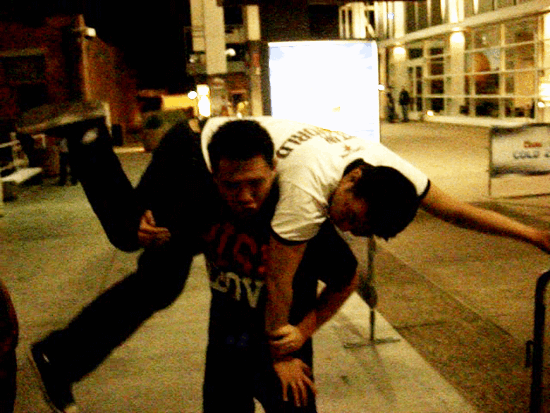 Strong Like Bulls WWE Superstars are known for their utter strength and so are their fans, as this clip demonstrates. Wrestling geeks could probably spot the particular move being executed here, which -- for the uniformed -- is either a Fireman's Carry or the setup for an Attitude Adjustment. Remember folks, don't try this at home...unless you've had a few Steveweisers and wanna be champion of the living room.
See photos from the WWE Royal Rumble via our slideshow.
Follow Jackalope Ranch on Facebook and Twitter and Pinterest.
Keep Phoenix New Times Free... Since we started Phoenix New Times, it has been defined as the free, independent voice of Phoenix, and we would like to keep it that way. Offering our readers free access to incisive coverage of local news, food and culture. Producing stories on everything from political scandals to the hottest new bands, with gutsy reporting, stylish writing, and staffers who've won everything from the Society of Professional Journalists' Sigma Delta Chi feature-writing award to the Casey Medal for Meritorious Journalism. But with local journalism's existence under siege and advertising revenue setbacks having a larger impact, it is important now more than ever for us to rally support behind funding our local journalism. You can help by participating in our "I Support" membership program, allowing us to keep covering Phoenix with no paywalls.