Streets of New York
is celebrating an important milestone, and president and CEO Lorrie Glaeser couldn't be more proud.
"Forty-five years in this industry is, from what I understand, a remarkable history in the sense that I'm still a privately-owned restaurant company. I have no investors, and I'm totally family involved," says Glaeser.
Glaeser is all about food and family. That's all she has known since moving to Arizona from New York with her late husband Bernd and opening up the first location of the neighborhood pizzeria at 32nd Street and Cactus Road in 1976. Today, there are 16 storefronts in the Valley, one in Prescott and another in Nevada.
"Family-owned businesses can sometimes be a nightmare, and family-owned businesses can be superstars, and I think we have become the superstars in this industry, which is very difficult," Glaeser says.
When they were little, her children would sit at a table in the restaurant after school, eating a slice of pizza and watching Glaeser work. Now, they and their spouses work for Streets of New York, along with a few grandchildren.
"I take that as a strong testimony to the belief of who we are," Glaeser says. "My daughter-in-law's involved, my son-in-law's been involved in the company for 30 years. Everyone's been an integral part of working for Streets, and had a very important function."
Glaeser's considers her staff family, too. Many of her 380 employees have been with her for more than 30 years.
"If I didn't have the staff that I have, from my corporate office to my restaurant managers, to my cooks in my kitchen and to my employees that run my dining room, this company would not be the same without the loyalty," says Glaeser. "And not just with my own family. I have many loyal managers that have their own families involved [with the company]."
Glaeser is appreciative of her ardent customers that flock to the many Streets of New York locations across the state (and one in Nevada). To honor them and commemorate the company's 45-year anniversary, there's a prize being given away on social media each day until November 24.
"We're also not forgetting the first responders," Glaeser says. "They could be our fire, police department, and hospital workers, so we're delivering food products to them as a thank-you for being there for this whole community [during the pandemic].
It's been a tough almost two years for restaurants, she says. Glaeser serves on the board for the Arizona Restaurant Association and says talking with other owners about their troubles brings her a sense of comfort.
"We all share the same conversations, we all share the shortage of products, and the labor force today is totally different than what we've ever experienced before," Glaeser says. "I'm not out on an island by myself. I have a support system which is wonderful during these times, and then all of us, collectively, trying to solve problems or share, 'What are you doing at this time in this particular situation?' It has a huge value."

There have been some bright spots in the last year or so. Streets of New York now has a partnership with all the state's major sports teams, starting with the Arizona Diamondbacks 10 years ago, and followed by the Phoenix Suns, Arizona Coyotes, Arizona Rattlers, and Phoenix Mercury. This is the first full year in partnership with the Arizona Cardinals.
"With me being probably the most un-sporty person, I'm thrown into this realm with them all the time, and I'm loving it," says Glaeser.
You would think all this would keep Glaeser busy, but she still finds the time to give back as a community partner with Vitalant, a nonprofit organization that collects blood from volunteer donors for those in need. Over the years, Streets of New York has given out plenty of free pizza to donors willing to part with a pint of blood.
And Glaeser is a constant presence in the kitchen — she is the chief taste tester after all. Glaeser says the process of creating her infamous marinara sauce has been the same since the beginning. It involves combining simple, fresh ingredients to develop as much flavor as possible.

"My goal and my mission in life is to present to the customers the best of my palette and what I think they would enjoy on the plate," she says. "It's fun. And I don't have a chef's hat, but I sure could wear one."
Not only does Glaeser create and test all of her recipes — she also manages the financial and marketing side of the business.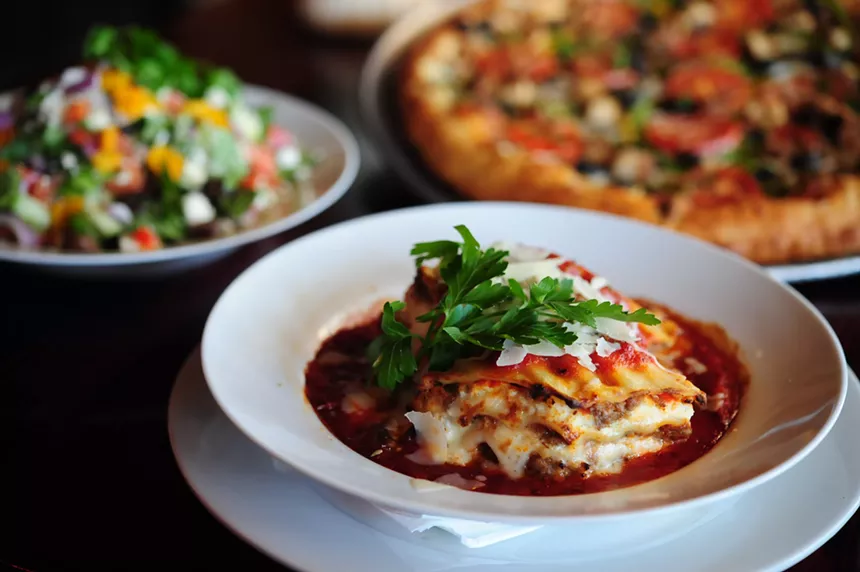 "At the end of the day I go home with a lot of satisfaction, because I think I'm carrying those hats well enough," Glaeser says.
She says being a female in the male-dominated food and restaurant industry gives her a sense of pride and certainly doesn't hold her back.
"I'm a working person, and I work hard," Glaeser says. "I think being female is adding a fresh approach. There's another way of thinking, there's another discussion, or a way a discussion can be, so I think I have related well to all my peers. I think I have related well to all the people and entities of business, so the only thing I can say is I've just been a 100 percent success for myself."
She does enjoy being a maternal figure at work (quite literally to her children and grandchildren and a surrogate mother to her other employees) and is never too busy if someone needs her.
"Calling and checking on them if they're ill, just making that little extra something happen, that they don't get lost, that they're appreciated, they're adored by me," Glaeser says. "They know very well that in a moment if they need me, I will be there — that's what we have to do, don't we?"
At the end of the day, it all comes back to family.
"I just try to be mindful and appreciate and always thankful throughout my whole career," Glaeser says. "I'm proud of my company, but I'm more proud of my family's contributions and my employees that have taken their ride also with Streets."
Here's to another 45 years in business, Streets of New York.